Fabric Belts, Cotton Blend, Stripes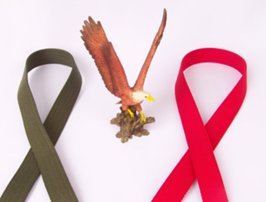 Striped Military-style Web Belts.
These military belts are 20% cotton and 80% acrylic. All are woven from several colors of thread to create horizontal stripes. The buckles and tabs are a little bigger and heavier gauge than our
basic military belts
.
1-1/4 inches wide by 50 inches long, they may easily be cut to fit. Click sizing icon below for instructions.
Each comes with a choice of buckle and matching metal tab; we send nickel polish unless you specify otherwise.
---