Strait City Trading will be closed Wednesday, November 22 through Sunday November 26, 2017
No shipments will be made. Email and voicemail will be checked. Happy Thanksgiving!
Fabric Belts, Cotton Blend, Stripes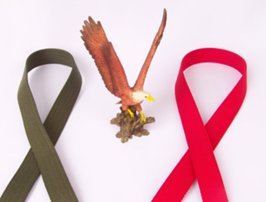 Striped Military-style Web Belts.
These military belts are 20% cotton and 80% acrylic. All are woven from several colors of thread to create horizontal stripes. The buckles and tabs are a little bigger and heavier gauge than our
basic military belts
.
1-1/4 inches wide by 50 inches long, they may easily be cut to fit. Click sizing icon below for instructions.
Each comes with a choice of buckle and matching metal tab; we send nickel polish unless you specify otherwise.
---