Strait City Trading will be closed Wednesday, November 22 through Sunday November 26, 2017
No shipments will be made. Email and voicemail will be checked. Happy Thanksgiving!
USA Buckles, Conchos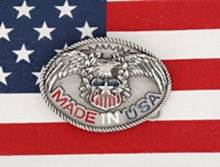 Buckles for 1-1/2 inch belts celebrating life in the USA, designed in the USA, made in the USA. Look here for western buckles, biker buckles, outdoorsman buckles, buckles that commemorate (or tease) southern heritage, native American heritage, Christian culture, and the US armed forces.
Click to browse our visual directory of belt buckles:

.
Click to browse our selection of 1-1/2" belt straps that fit our buckles:

.
Southwestern style concho belt buckles, turquoise and coral inlay or antique western embossed ornamentation.

exploded turquoise and coral inlay concho western belt buckle, shards surround sun symbol, sun-rays in concentric rings, pearl and scallop edge, 3 oz
Item
Color
Size
Price
Qty


oval enameled pewter belt buckle, native American four-directions motif in black with central portrait oval, blue-violet swirls and tips, 3 oz
Item
Color
Size
Price
Qty


oval enameled pewter western buckle, swirled turquoise blue and coral red enamel "stones" highlight black and pewter Hopi/Navajo-inspired concho design, 3 oz
Item
Color
Size
Price
Qty


antique western embossed pewter concho belt buckle, stylized windmill with scalloped border, 3 oz
Item
Color
Size
Price
Qty


antique western embossed pewter concho belt buckle, five flower lattice in diamond and leaves design, 3 oz
Item
Color
Size
Price
Qty


antique western embossed pewter concho belt buckle, stylized butterfly body, wing, antennae design, 3 oz
Item
Color
Size
Price
Qty


antique western embossed pewter concho belt buckle, double ring of "S" scroll figures about double butterflies, 3 oz
Item
Color
Size
Price
Qty


small disc engraved pewter belt buckle, delightfully accurate reproduction of Mexico City sun stone Aztec calendar, mirror image on back of buckle, click photos to see, 2 oz
Item
Color
Size
Price
Qty


antique western embossed pewter concho belt buckle, big daisy flower design with wild rose on each petal, 3 oz
Item
Color
Size
Price
Qty
---